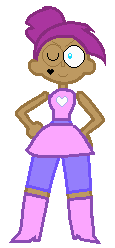 Enida Sanchezo Mariam, more commonly known as Enid, is the fourth member of the Wubb Girlz. Not much is known about her life, but Enid was formerly friends with Elodie and she also used to live in Lakewood Plaza Turbo before moving out after she signed a contract. She is also the first human member. She currently plays a pink heart-shaped bass guitar.
Appearance
Enid has tan skin, pink hair tied up in a bun and blue eyes. She also has her trademark black heart tattoo, which is located on her left cheek. Her outfit is like the other Wubb Girlz' but she has a giant heart on her shirt and she also has no decorations on her ankle boots. She is the first member not to have a hair decor and she also has no gloves or bracelets.
In her training outfit/her famous Kung Fu Princess attire for the film, Enid has a white suit with long sleeves with a skirt around the waist; revealing a little of her legs before ending in her boots. The outfit also has light purple stripes on her sleeve cuffs and on the skirt.
Before joining the girls, Enid had no tattoo and she had a blue top revealing her belly with white bandages on her arms and light brown shorts with dark brown ankle boots. Occasionally, Enid wore black sunglasses when she was relaxed.
When she was in disguise, Enid's hair was tied into a braid and she wore a dark gray scarf, a dark red beanie and a plaid jacket with dark blue leggings. She had long boots similar to her old ankle boots. She also had her tattoo on.
When moving in, Enid had a white shirt that had a sleeve hanging off her left arm. Black text on her shirt said "Love your Life" and she had blue jeans and black sneakers. Enid also had an orange beanie, her hair was loose and she had black glasses with no lenses.
Personality
Enid is a very kind person and she is calm. She stands out the most, as she plays an instrument and doesn't sing. However, some exceptions are made as with her character song GRRRLS. Enid also doesn't synchronize and pose with the others. She appreciates differences, as shown when Wubbzy was turned into Wubb-Z and she said, "Girls, it's totally okay if Wubbzy is like that. Difference is good."
Songs