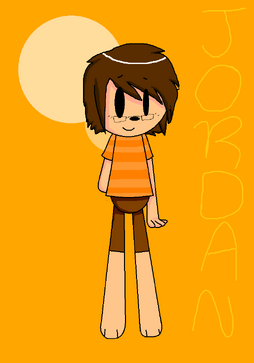 Jordan Walker "Ortiz" is a member of the Wubb Girlz. He is the only boy, next to Michael in the Wubb Girlz. 
Backstory
Jordan was born in 1994; as an only child, he only knew the world as a happy place. But that changed when Jordan turned 8. After he was diagnosed with Aspergers Syndrome, which is a high-functioning form of autism, his parents didn't want him. They shredded his birth certificate and left him in the streets of Detroit to die. The streets were what he called "home" for three years. But that changed one summer; the Wubb Girlz' tour bus had stopped in Detroit for the girls to perform in concert. Jordan was found by Shine and Glitter, who then took him back to their bus.
Initially, Sparkle was hostile toward Jordan, believing he'd "spoil their image", which hurt his feelings, but Shimmer took him aside and reassured him that he was welcome in the family, to which Shine, her wife, Ariel Phantom Lotiz, Glitter, Sprinkles and Twinkle happily agreed.
A year after the Wubb Girlz gave him a home, Jordan was out shopping for his new sisters when he encountered a girl from Canterlot High School. The girl introduced herself as Rarity and asked Jordan if he could help her with her shopping, to which he said yes. After they had finished shopping, a smitten Rarity asked Jordan to go on a date with her, which he, just as smitten, agrees to do.
After getting advice from Shine, Ariell, Glitter and Shimmer, Jordan and Rarity's date went off without a hitch and the two are now inseperable.