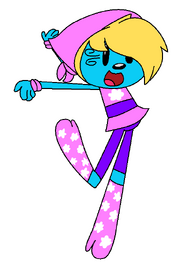 Sprinkles "Chibi" Ortiz is one of five members of the Wubb Girlz. She is also part of the Wubb Ponies, she is the eighth member. She is also one of Shine's sisters. She is the shyest, and youngest forgotten Wubb Girl.
Appearance
"Chibi" hasn't made any appearances, either in "Wubb Idol". She has had the same problem with Glitter, only except she was unable to make it to Wuzzleburg to make the film along with the girls.
Personality
Sprinkles is very shy when it comes to meeting new people, she will begin to open up more once she gets to know them more, she can be very clingy. She also gets frighten very easily.
Attire
Being a member of the Wubb Girlz, Sprinkle's main attire consists of a pink shortsleeved shirt with a purple belt around the waist, which reveals a pink skirt at the bottom. She also wears purple leggings, which reveal only a little bit of her legs before ending in pink high-heeled boots. On her boots and shirt are six-pointed stars. Also, Sprinkles wears sweat wristbands. Her golden hair is kept in a bandana, with her hair sticking out at the back. Sometimes, she will wear the same outfit; only accept her belt around the waist is a darker shade of purple. Her leggings are removed, and her pink high-heeled boots have none of her six-pointed star details, they also have white cuffs.