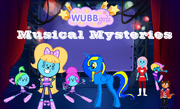 Wubb Girlz' Musical Mysteries is an upcoming, fan-animated series based on the adventures of the Wubb Girlz and their family. A release date for the first episode has yet to be confirmed. 
Synopsis
The series focuses on the Wubb Girlz' rise to fame, as well as many mysterious activities that go on during their illustrious musical career. From the occasional haunted house, to showdowns with the Nega Girlz and their creator, Dr. Eggman, the adventure never stops for this family of musical super-sleuths. 
Characters
The list of characters that are confirmed so far is right below.
First, is the list of heroes

Below is the list of antagonists so far.
Dr. Eggman
Kiken Robinson
Glitz (appears in one episode)